•ART OF HEALING: Jill Baratta instructor at, and in cooperation with The Art School at Old Church, is facilitating art sessions with infusion patients at the Englewood Hospital and Medical Center. She is offering the patients beading/jewelery, collage, adult coloring, painting and more. Some of the patients enjoy having this bonus to their often long infusion sessions, giving them an opportunity for distraction, empowerment, relaxation and more.
• Ms. Cliffer Baratta was juried in to the National Association of Women Artists, and was inducted on November 17, 2011. Ms. Baratta's print "Current 2" won the Aida Whedon Memorial Award for Printmaking at the 123d Annual Exhibition in September, 2012. See the article on the NAWA exhibit, featuring several pieces including "Current 2": http://www.huffingtonpost.com/vicky-tiel/art-is-a-struggle-with-th_b_1930764.html
Ms. Baratta chaired the Public Relations committee for NAWA in 2013, and was elected to the Board of Directors in 2014. She chaired the Exhibition Committee from 2015-17, and was elected President of NAWA as of May 2017, to serve through May, 2019.
TASOC (The Art School at Old Church) Winter 2017:
call 201-767-7160 to register

ANNOUNCEMENTS and EXHIBITIONS
BEGINNER PRINTMAKING
Jill Cliffer Baratta
18W PRI080: Mondays, 9:15 AM to 12:15 PM, Jan.8-Mar 12
No class on Jan. 15 or Feb 19
8 sessions $252
Material fee $16 Material list: tasoc.org
Beginner
Have you ever wanted to incorporate original art into a greeting card or invitation? Or ever gaze into a Picasso, Matisse or Munch print and wonder how it was done? We'll focus on relief-printing methods, learning linoleum or woodblock printing and monotype. You will learn how to plan and make prints on a press and by hand rubbing.
We will use water-based inks. No printmaking experience is necessary!
Continuing beginners welcome and encouraged!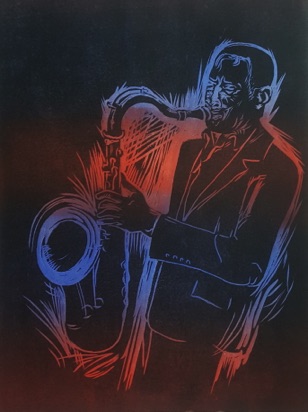 OPEN HORIZONS
January 29 - March 30, 2018
County College of Morris (CCM) Art & Design Gallery
214 Center Grove Road, Randolph, NJ 07869
Reception: Thursday, February 1, 2018, 6-8 pm
Panel Discussion before the reception, 5-6 pm
Included in Open Horizons, the two artworks below by Jill Cliffer Baratta, available through this NAWA exhibition (National Association of Women Artists, Inc.)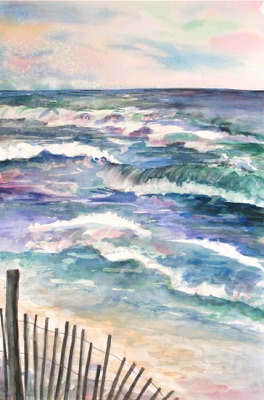 Ocean Waves
30" x 20" watercolor
$550
Open Spaces6
16" x 19" intaglio print
$200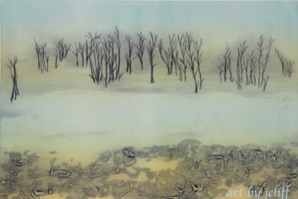 Winter Small Works
February 1 - 27, 2018
NAWA GALLERY
315 West 39th Street, Suite 508, NY, NY 10018
Reception: Thursday, February 15, 2018, 5-7 pm
Included in Winter Small Works, the artwork below by Jill Cliffer Baratta, available through this NAWA exhibition (National Association of Women Artists, Inc.)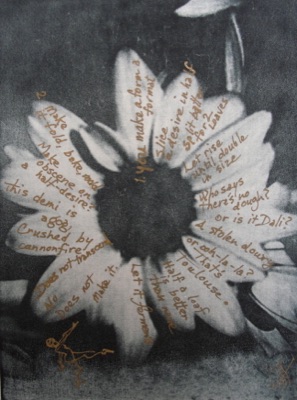 Daisy Form
11" x 9" solarplate etching with poem calligraphy
$250