Please consider sponsoring the artwork you see on this site.
The Exhibition "Painting the Corners" is seeking help in exchange for promoting your business at the gallery. Please click on "Donate" and we will discuss how to best promote your business as our donor....
Sponsorship Opportunity
"PAINTING THE CORNERS"
3 Woman Artists Step Up to the Plate
A BASEBALL ART EXHIBIT April 6-27 2018
The National Association of Women Artists
315 West 39th Street Suite 508 NYC NY 10018
reception Thursday, April 12, 5-7 pm
We are three professional artists who are members of the National Association of Women Artists, on W 39th street.
We are writing to ask if you will consider becoming one of our sponsors in exchange for advertising your business at our show.
Our organization was founded in 1889, an era when women artists were associated primarily with crafts and decorative arts. The founders of NAWA created higher standards for women artists and provided them with the opportunity to exhibit their work.
Why support us?
As you know there are many businesses, hotels, and restaurants in this area that generate foot traffic.
We believe that a partnership with us will increase visitors to your establishment, and represent you as a supporter of the arts- one of the shining values of New York City!
The Art of Baseball
Baseball is a timeless sport enjoyed by generations of families. It is also a beautiful sport infused with fine-tuned skills, teamwork, and graceful physical prowess.
An exhibit of our work gives visitors the opportunity to see the game and the players through the eyes of women painters, a chance to expand the viewer's appreciation of art and sport.
Levels of Sponsorship
Your Ads Displayed at the show.
$25 for 15%off or more coupons
$50 for your business cards or flyers
The deadline for participation is March 15
Sponsorships will pay for our rent and reception costs at the Gallery event.
30% of our sales will go to maintaining the programs of the National Association of Women Artists
Contact:
JILL CLIFFER BARATTA jcbaratta@optonline.net
SUSAN MILLER-HAVENS info@millerhavens.com
MARISOL ROSS artist@marisolross.com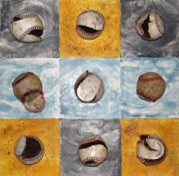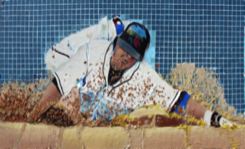 HOME
polymer clay, sand, tiles , 24 x 48"
Marisol Ross
9 RIPS
encaustic, baseballs, field dirt,
24 x 26"
Jill Cliffer Baratta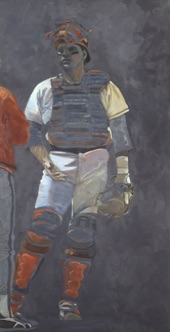 THREE BALLS NO STRIKES
oil, 18 x 12"
Susan Miller Havens